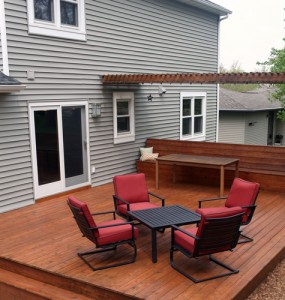 Summer weather is heating up, giving even more reasons for you to make the most of the outdoor space surrounding your home! With your backyard furniture and seating getting increased use, you may be considering upgrading the look and style of your backyard. There are plenty of fantastic options available to add to your home, no matter what your budget.
Whether you choose to upgrade your trees, shrubs or plants to bring more shade or prefer the use of shade covering or water misters, remember to think cool. Water elements, from fountains and portable pools and spas may also be something to consider, as well, as you plan your decor.
When thinking about seating, it's important to remember that while wicker, metal, and rattan can be beautiful additions, they may also deteriorate quickly when used as outdoor seating, in the wrong conditions. Plastic chairs may be more durable and resist moisture, chlorine, insects, and salt water, but they have to match the look you want to achieve in your home.
Daybeds, hammocks, and wooden furniture are all beautiful looks, as well, and can be custom built or finished as you desire. In fact, built-in seating is also a fabulous way of defining space in the outdoors of your home.  Custom-built seating is more pricey, but can last a very long time. Consult online sources such as Houzz.com, Pinterest or online magazines to get even more ideas!